Rural Ledge-ucation #73: Happy Birthday Tommy Stinson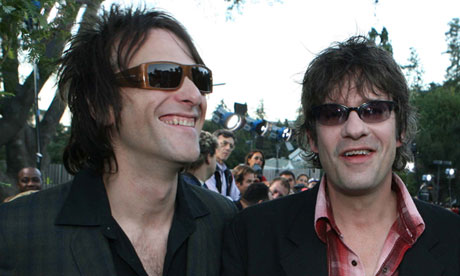 Tommy Stinson turned 46 yesterday, so it only made sense that I turned Rural Ledge-ucation into a birthday celebration. Besides a few Replacements tracks, we sampled some tracks from his days fronting Bash & Pop and Perfect, along with tunes from his two solo albums, Village Gorilla Head and One Man Mutiny. As always, there's a few rarities thrown in, including covers of The Clash and Undertones.
Of course, we also had to discuss the exciting news that Tommy and Paul Westerberg have recently reconvened to record four covers for an EP to assist in paying for guitarist Slim Dunlap's medical bills. As you may expect, I'm extremely excited by this project, and will bid whatever it takes to obtain a copy.
Grab this from the usual sources, including the iTunes store or Sititcher, or...
1. Bash & Pop, Fast and Hard
2. The Replacements, Sixteen Blue
3. The Replacements, Tommy Gets His Tonsils Out
4. The Replacements, I Hate Music
5. The Replacements, Satellite
6. Bash & Pop, Never Aim To Please
7. Bash & Pop, Friday Night (Is Killing Me)
8. Bash & Pop, Harbouring A Fugitive
9. Bash & Pop, Making Me Sick
10. Perfect, Better Days
11. Perfect, Alternative Monkey
12. Tommy Stinson, Hateful
13. Tommy Stinson, Teenage Kicks
14. Tommy Stinson, Not A Moment Too Soon
15. Tommy Stinson, Match Made In Hell
16. Tommy Stinson, Zero To Stupid
17. Tommy Stinson, It's A Drag
18. Tommy Stinson, Don't Deserve You
19. Tommy Stinson & Friends For Done To Death, You Can't Always Get What You Want