More Proof The Media Are Dopes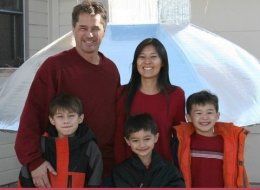 This afternoon, I was attempting to get through another boring day of work when news came that the cable news channels were following a renegade balloon supposedly carrying a six year-old child. Like hundreds of thousands of people, I flipped around between the three networks for well over an hour before the balloon finally descended in rural Colorado.
As most viewers probably predicted, there was no child inside the balloon. In fact, he was apparently hiding in his family's home. Or was he? It's hard for me to believe anything that comes out of the mouths of anybody who has appeared on shows such as Wife Swap.
Regardless of whether this was an attempt by the family to make headlines or an honest mistake by the child, the media needs to be castigated for their handling of the situation. All of the media outlets stuck with the story for its duration, throwing out meaningless conjecture and phony expert opinions that had no basis in reality. CNN's anchors seemed to relish the possibility of a tragic ending, while Fox's Shepard Smith was caked with fake empathy. The local Denver affiliates were even worse; the female anchor threw out so many cliches she seemed to be auditioning for a national gig. Hell, even the helicopter reporter acted as if he was on one of those terrible car crash clip shows that fill Court TV's lineup.
It's amazing that cable news will give this story (and the aftermath) hours and hours of airtime, but has yet to give real issues such as health care and unemployment nothing more than the usual talking heads from the left and right yelling at each other. John Stewart is bound to have a field day with this story.
Edit: It's looking more and more like this really was a publicity stunt:
From
Mediate.com
It didn't take long for Balloon Boy and his spotlight-loving family to tell their story, spending an hour with Wolf Blitzer who filled in for Larry King on CNN tonight.

While Richard Heene and Mayumi Heene (Balloon Boy Falcon Heene's parents) mumbled their way through a story about their traumatic day, it took a hide-and-seek-loving six-year-old to finally admit the truth.

"Did you hear us calling your name?" Richard asked his son midway through the show tonight. Falcon said he did hear his father call his name.

And here's the key line, via Balloon Boy himself: "You said…that…we did this for a show.

"

For some reason, Blitzer let this slide. Richard tried to stumble through an explanation for that blatant moment of clarity. "Whenever we tell him things like, it's a bad thing to do, he does go and hide," he said, which means nothing.

At the end of the interview Blitzer finally got back to that comment from Balloon Boy. "I have no idea," said Richard. "I think he was talking about the media. They've been asking a lot of questions."
Here's footage of Falcon's gaffe: